PARIS: Football's biggest stars burst onto the Paris fashion runway Thursday with Neymar, Kylian Mbappe, and Edinson Cavani popping up on T-shirts and satin bomber jackets by Indian designer Manish Arora.
The flamboyant creator has linked up with their club, Paris Saint-Germain, to produce a line of women's clothes inspired by its stellar trio of strikers, including vertiginous stiletto football boots in a mix of hot pink, lime green, and gold aertex.
In the most colourful and joyous catwalk show of the week so far, Arora remade the team's crest with the footballers' faces surrounded by adoring hearts in Indian Zardozi metal embroidery.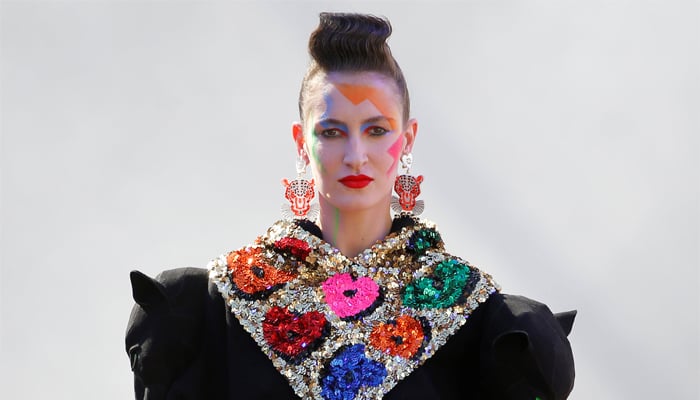 A kaleidoscopic portrait of PSG's dishy Brazilian defender Thiago Silva adorned another top, while Neymar's featured on the shiny scarlet tongue of Day-Glo rainbow trainers.
"Life can always be more colourful," he quipped as he also sent out football-shaped gold chain bags decorated with the players' faces and names, and jackets with staggering leopard-head shoulder pads.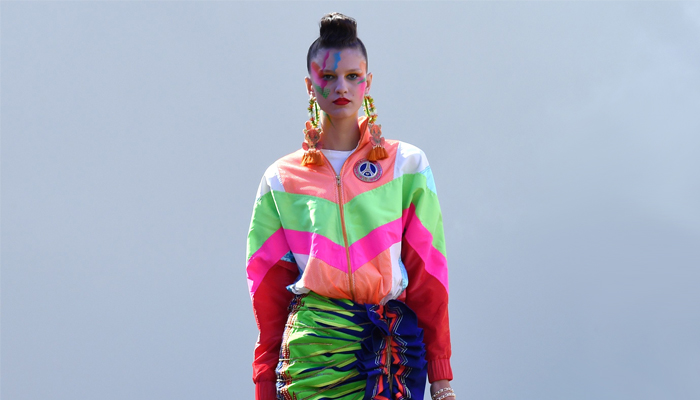 The traffic-stopping outfits came with leopard handbags "complete with laser eyes", the ultimate WAG (Wives and Girlfriends) swag.
"Girls just wanna have fun" — the show's title — also made it onto those football boot stilettos.
Then, there was the model in a heart-covered wedding cake gown, her face done up like a wacky Snapchat filter, not to mention the three-tiered cake bags.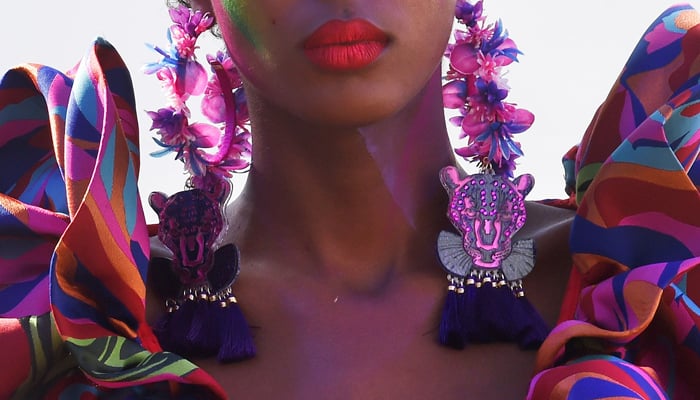 "The kitsch quota comes good enough to eat," Arora joked, and it doesn't take a huge leap of the imagination to see them making it onto WAG credit card bills.
The show went down a storm with critics, with the style bible Women's Wear Daily hailing Arora for "reaching out to a global audience" and nudging his clothes "upmarket a notch, trimming away some of the excesses without losing any of its punch".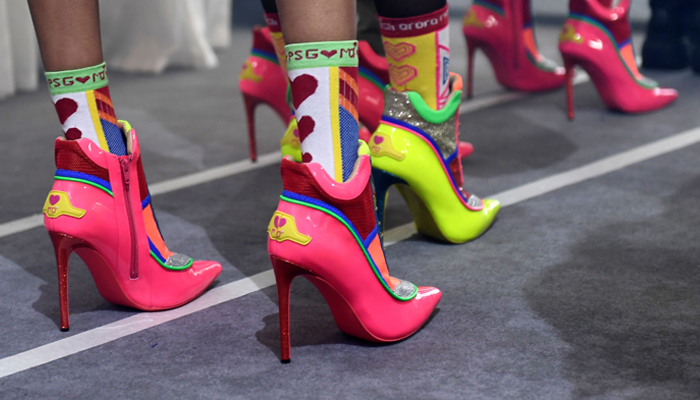 It is not the first time that PSG has inspired Paris designers. Last year, the smart young French brand Koche send out a line of re-imagined silky PSG tops.
The official link-up with Arora, however, is part of PSG's strategy to become a global entertainment industry brand, with a capsule collection drawn from the show due to go into the shops in China and India in February.
An Informal Colloquy with Wahaj Ali
After spilling his magic in Haiwan, Wahaj Ali is all set for new and exciting roles. We sat with him to talk about his career, daily routine, his likes and dislikes and many more that you would love to know.
This is what we grabbed from a small meeting.
Q.1. Tell us how it all started.
Ans. My career wasn't planned, nor was it accidental – it was actually quite sudden. I worked at the theater before as a hobby, and from that I got an opportunity to work on television – that's where it all started from.
Q.2. Peeking into Wahaj`s daily routine – what does it comprise of?
Ans. Well, it depends! If I am not shooting for a project, I spend time at home with my daughter, and teasing my wife and mother. I am not a very active guy, so when I am not shooting, I am super lazy and I spend most of my time in bed. However, when I have a shoot, my work day starts from 9 am and continues on till 11 pm, and that's how hectic it becomes. There are lots and lots of scenes that we have to record, and when I am back home, I'm usually too exhausted to socialize much. I'm not a very social person anyway – instead of going to parties, I would rather go and spend quality time with the three ladies in my life: my wife, mother and daughter.
Q.3. What kind of a person is Wahaj?
Ans. Wahaj is vulnerable, but he is indestructible.
Q.4. Did you always intend to get into this industry or you had other plans as well?
Ans. As I said earlier, this was never the plan. I had other things in mind, but this is what life has brought me to, and I am loving it.  Life is risky, but it is calculated, and in the face of it taking surprising turns, we should plan out things to achieve targets and keep ourselves motivated to succeed at whatever we end up doing.
Q.5. Other than Haiwan, have you done any emotionally challenging drama? Your views about child abuse – what made you take up that project? Was it the subject matter or you just took it without any reason?
Ans. For that I will be very honest: it was a selfish decision to opt for Haiwan. The cast and the director was the major reason why I signed up for it, as they were experienced and I got to learn a lot from them. However, the fact that the drama is based on an emotional social issue was definitely a plus point, as the script was really intriguing.
Q.6. Who has been your favorite co-star so far?
Ans. For me every co-star is my favorite, since I have had a good working relationship with all of them and I had the chance to learn from them as well.
Q.7. Who has been the most difficult person to work with?
Ans. I think no person is difficult to work with. It's just a lack of understanding that results in such friction, and I usually make sure I develop that understanding on set and off set if required.
Q.8. Any project from the past that you would love to be a part of?
Ans. What I think is that whatever is written for you comes your way, and if you weren't a part of something, it probably was for the better. Your focus should always be on giving your best to whatever you have committed to do, instead of worrying about anyone else's work.
Q.9. Any project you regret saying no to?
Ans.  Not really. I don't regret when I say no. it's simple – when I take a decision, I think about it thoroughly before I decide on it, and once I've made up my mind, there's no turning back, and no regrets.
Q.10. Any project that you shouldn't have done?
Ans. There are a few projects which didn't completely resonate with me, yet I did them. However, I don't want to name them, and I now take them simply as a part of the learning process.
Q.11. What kind of projects you would like to work on? And most importantly, what is lacking in the drama industry?
Ans. I want to be part of those projects with which I can inspire and educate people. It is crucial for me to use my work to get a valuable message across. It has been noticed that as the number of dramas or actors are increasing in the industry, the quality of work has been decreasing, and I feel quality comes first. We have to maintain the quality irrespective of anything else. Teamwork is also something that our industry can work on.
Q.12. Are you ready to slide into movies any time soon?
Ans. I'm not prepared for movies yet, however it can be something I can look forward to sometime in the future maybe.
Q.13.  Tell us about your future projects?
Ans. There are a couple of projects that are in the pipeline, and one of them is on child abuse which is under production currently. Another one is also in the works that will surely surprise you all!
Up Close and Personal with the Host of Joke Dar Joke- Hina Niazi
We got in touch with this beauty with brains after the controversy on the show "Joke Dar Joke" took the heat.
It was a treat to know her and we definitely had a great time talking to her.
1) How is Hina in real life?
Just another human being, who loves to have fun with her friends, likes to socialise, explores fancy food places and gets irritated very quickly.
2) Your biggest pet peeve?
Noisy Eaters
3) Being a host was a plan or you wanted to do something else?
It was never planned. I graduated in English Literature and ended up being a program anchor.
4) your favourite perfume?
Chance by Chanel
5) Your relationship status?
Currently in a relationship with food
6) Three things we will always find in your bag?
Perfume, hand sanitizer and credit card
7) One social media app that you can't survive your day without?
Instagram
8) A secret that not many people know about you?
Crows scare the shit out of me.
9) Who is your inspiration?
My parents
10) Are you planning to get into acting?
You never know
11) Your celebrity crush?
Leonardo DiCaprio
12) What's the worst/ most annoying thing about being a host?
Hectic working hours!!
13. Mazak raat Or Joke Dar Joke, which one is closer to your heart?
Joke Dar Joke for sure but Mazaq Raat has it's own very special place in my heart.
14. What would you say about that controversial show you hosted on domestic violence?
Unfortunately, there are attention vultures on our social media who would always try and prey on such delicate social issues for their own publicity. Fatima Sohail came to our show and she admitted that it was an edited video shared on social media by some "nobody" to gain some cheap publicity. For the viewers, I'd like to tell that the whole unedited version of that very segment is available on our YouTube channel.
15) what are your future plans?
I am a happy go lucky type of a person. I don't plan things. I go with the flow. Let's see what future surprises me with
The Best Dressed Celebrities at Paris Haute Couture 2019 Fashion Week
Many of the world's finest celebrities flew to Paris over the weekend to indulge in some stunning high fashion at Paris Haute Couture 2019 Fashion Week. But they didn't just observe. Whether they were sitting front row or snapped heading into a show, they also embraced their own eye-catching senses of style and we narrowed it down to the best ones!
Celine Dion is essentially the queen of Paris Fashion Weeks, turning the streets into her own personal runway. Wearing some of her wackiest and coolest looks yet, this year's Haute Couture week has been no different. Her first official Haute Couture Fashion Week event was Schiaparelli, which would be presenting its first collection under Daniel Roseberry's creative direction. Dion had a custom look made by Roseberry—a black halter-necked dress with a pleated skirt and matching elbow-length gloves. She finished it off with a headpiece by Stephen Jones, milliner to the stars, and sunglasses by Féroce.
Mandy Moore just made the streets of Paris a real life runaway. The This Is Us actress is most certainly cementing her place in the fashion industry and has proven herself quite the fashionista . Wearing a sheer striking blue cape dress with an embellished golden belt created by designer Peter Dundas, at the Dundas Fall 2020 Haute Couture Fashion show, the brunette beauty bewitched everyone with her outfit and equally mesmerizing makeup look.
Check out the chicest look on our newest MJ: Zendaya. She wore a cropped whitetuxedo shirt with slouchy plain black ankle cut trousers that displayed her tights and stiletto heels. She had her hair slicked back and we just can't get over how perfectly she pulled this look off at the Armani Privé Haute Couture Fall-Winter 2019 show on July 2!
Margot Robbie: For the Chanel Haute Couture Fall-Winter show on July 2, the Once Upon a Time In Hollywood actress rocked a black and white checkered jacket with criss-cross print tweed pants matching with plain back heels and it surprisingly worked! Keeping casual, simple but chic.
This just might be the blonde beauty's most daring outfit to date. Christina Aguilera dons a vintage tattoo kimono-style dress with a corset (that acts as a belt), black knee-high boots paired with flashy accessories and makes a statement with red lips and nails at the Jean Paul Gaultier Haute show.