PARIS: Football's biggest stars burst onto the Paris fashion runway Thursday with Neymar, Kylian Mbappe, and Edinson Cavani popping up on T-shirts and satin bomber jackets by Indian designer Manish Arora.
The flamboyant creator has linked up with their club, Paris Saint-Germain, to produce a line of women's clothes inspired by its stellar trio of strikers, including vertiginous stiletto football boots in a mix of hot pink, lime green, and gold aertex.
In the most colourful and joyous catwalk show of the week so far, Arora remade the team's crest with the footballers' faces surrounded by adoring hearts in Indian Zardozi metal embroidery.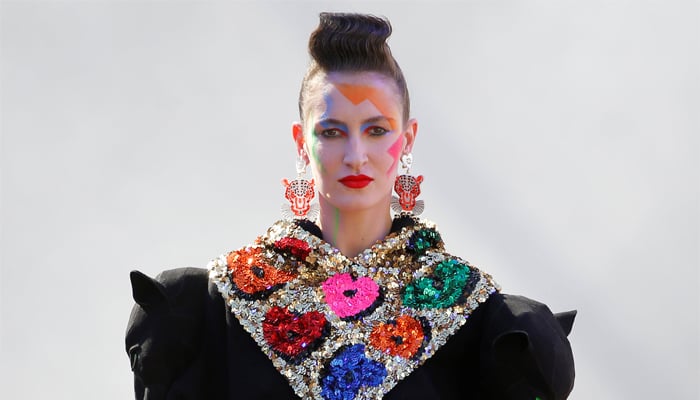 A kaleidoscopic portrait of PSG's dishy Brazilian defender Thiago Silva adorned another top, while Neymar's featured on the shiny scarlet tongue of Day-Glo rainbow trainers.
"Life can always be more colourful," he quipped as he also sent out football-shaped gold chain bags decorated with the players' faces and names, and jackets with staggering leopard-head shoulder pads.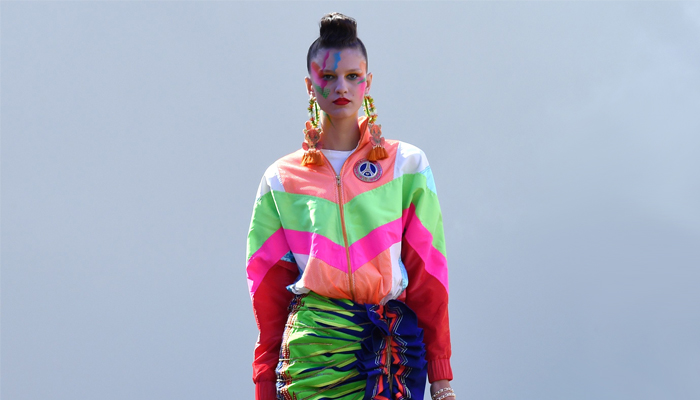 The traffic-stopping outfits came with leopard handbags "complete with laser eyes", the ultimate WAG (Wives and Girlfriends) swag.
"Girls just wanna have fun" — the show's title — also made it onto those football boot stilettos.
Then, there was the model in a heart-covered wedding cake gown, her face done up like a wacky Snapchat filter, not to mention the three-tiered cake bags.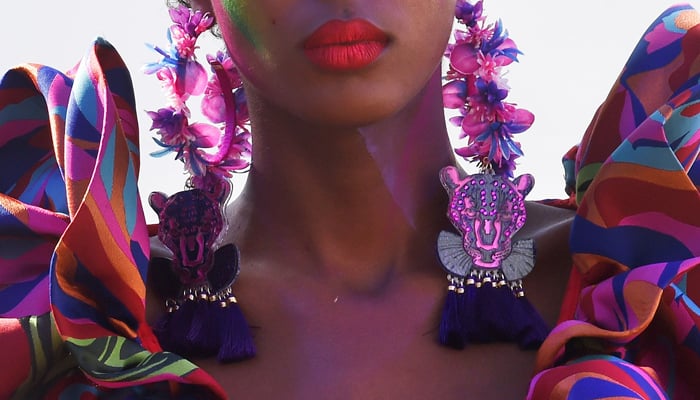 "The kitsch quota comes good enough to eat," Arora joked, and it doesn't take a huge leap of the imagination to see them making it onto WAG credit card bills.
The show went down a storm with critics, with the style bible Women's Wear Daily hailing Arora for "reaching out to a global audience" and nudging his clothes "upmarket a notch, trimming away some of the excesses without losing any of its punch".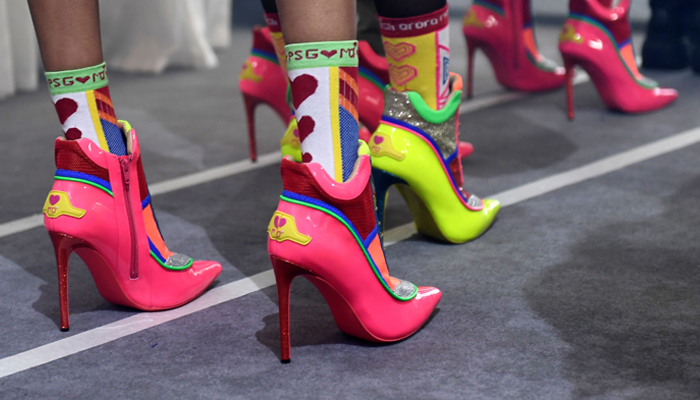 It is not the first time that PSG has inspired Paris designers. Last year, the smart young French brand Koche send out a line of re-imagined silky PSG tops.
The official link-up with Arora, however, is part of PSG's strategy to become a global entertainment industry brand, with a capsule collection drawn from the show due to go into the shops in China and India in February.
Bridal Couture Week Day 2 brings more stars on the ramp
After the glamorous showcase on Day One, Day Two of the bridal extravaganza was a continuation of the glitz and bridal statements with the country's acclaimed couturiers, bridal wear designers and retail brands. As always BCW left its audience stunned with its majestic stage, uniquely set for a one of kind fashion show.
On Day Two of the bridal extravaganza kicked off with Emraan Rajput's earthy hued fusion collection Shalima.
It was followed by Aisha Farid's Nur un Nissa a collection fit for the Mughal empress.
The next show was by Kausar Sajid with her Parivarsh collection which has revived ancient embroidery techniques over luxe and delicate fabrics for the modern-day bride.
Shakeel's by Zeeshan Danish's hand embroidered bridal collection Kimkhwab and Sheeba Kapadia's Claire De Lune for the new age bride.
Chinyere's Ishq Nachaye Gali Gali for the woman who presents femininity through unique and beautiful patterns of embroidery, embellishments and motifs.
Humayun Alamgir's Nawabzada a collection inspired by the fashion choices of the royals, elite and the influential.
Next in line was Embellished by Sadaf Amir's Bagh e Baharan which featured colours of flowers from all seasons and transformed the ramp into a garden.
Rici Melion's timeless couture pieces in their latest collection Zyanya, encompassing artisanal craft forms showcasing renditions of Turkish floral, textures and seaming.
Day 2 comes to an end with the return of Lahore's favourite Maria B. with her collection The Lady of Amritsar.
The audience also witnessed the launch of Tasmina and Zulfiqar Sheikh's Sacch movie's latest song. The cast members who braced the runway included debutant Elysée Sheikh paired with Asad Zaman Khan, along with veterans including Ayesha Sana and Uzma Gillani.
Day 2 of the three-day bridal extravaganza had an amazing line-up of celebrities walking for the designers – internationally acclaimed singer and actor Ali Zafar walked for Emraan Rajput, and the stunning queen of television Ayeza Khan walked for Aisha Farid. Nimra Khan graced the ramp for Kausar Sajid, while Urwa Hocane walked for Shakeel's by Zeeshan Danish while Sanam Jung walked for Sheeba Kapadia's showcase. The very lively Juggan Kazim walked for Chinyere while singer Falak Shabbir, vlogger Shahveer Jafry and cricketer Hasan Ali walked for Humayun Alamgir. Mawra Hocane walked for Sadaf Amir and Junaid Khan with Zubab Rana strutted down the ramp for Rici Melon. The veteran classical performer Nighat Chaudary added allure to the show during Maria B.'s segment.
Bridal Couture Week Day 1
The 17th edition of the biggest bridal show extravaganza, Bridal Couture Week (BCW).
Show one of the bridal extravaganza kicked off with Fahad Hussayn's collection Labyagawachi trousseau bridal collection.
It was followed by Aisha Imran's Shadi Mubarik in romantic hues for the charismatic classic bride.
The next was Almirah with its collection Ethnic Seams which drew its inspiration from the splendour and intimacy of Eastern art.
It was followed by Samsara Couture House's Hayal, inspired from the tulip era in the Turkish Ottoman Empire.
Zonia Anwaar came next with her collection Zoella which was modern yet infused traditional techniques with her signature cuts for the young millennial brides.
Ziggi Menswear's monochromatic collection Fana – 'Annihilation of the Self' which was constructed using luxe fabrics, rich embroideries and motifs inspired from Sufism.
Nitasha Bilal Haute Couture showcased Abooro with her vision of beautiful Mughal legacy, blending them with her revivalist techniques of kora dabka and was awarded the Pantene Rising Star for her beautiful debut collection.
Haris Shakeel who amalgamated embroideries with block and screen printing in his collection Ishq.
Next was Royal Tag's very aristocratic menswear collection The Royal Ceremony, inspired by the majestic Syon House and Garden in London.
Day one came to an end with globally acclaimed master couturier Nilofer Shahid's collection Dastaan e Firdaus.
Day one of the three-day bridal extravaganza had an amazing line-up of celebrities walking for the designers – the bhangra king Abrar Ul Haq walked for Fahad Hussayn and Minal Khan showcased for for Aisha Imran. The veteran actor Aijaz Aslam was show stopper for Almirah, while the undisputed queen of our entertainment industry, Saba Qamar graced the ramp for Samsara Couture House whereas Nausheen Shah walked for Zonia Anwaar. Noor Khan walked and 'Soch The Band' performed for Nitasha Bilal Haute Couture while Kinza Hashmi closed the show for Haris Shakeel.
The eternal Adnan Siddiqui walked the ramp for Royal Tag and Sarah Khan added allure to Nilofer Shahid's timeless pieces.
Bilal Ashraf named most sexiest Pakistani man
The sizzling topless number dharak bharak in Superstar hands Bilal the title of sexiest Pakistani man of 2019
The British Asian publication Eastern Eye names Bilal Ashraf sexiest Pakistani man of 2019. Bilal Ashraf is the only Pakistani actor who makes it into the top 10 of this list based on votes from fans around the world, buzz generated on social networking sites, positive impact, and media attention.
Speaking exclusively to Daily Paperrazzi Bilal Ashraf was overwhlemed. In his choked up voice  he tried to remain humbled, "I am beyond humbled to be featured as part of a list among such legendary gentlemen."
Bilal Ashraf expressed his surprised and said he wasn't expecting this at all. "This has come to me as a surprise and such moments make the struggle and commitment we all put into our work all worth the while. This encourages me to try my best to further myself in my field. I'm extremely grateful." he added.
This rounds off a great year for the actor, which included a lead role opposite great Mahira Khan in blockbuster film Superstar. Ashraf's films released so far include Operation 021, Janaan, Yalghar, Rangreza and Superstar.
British Pakistani showbiz reporter Asjad Nazir, who founded the list and compiles it annually, praised Bilal and described him as the future of Pakistani cinema. "Pakistani cinema is on the rise globally and that is thanks to a new generation of world-class actors like Bilal. He will lead a future generation of cinema stars that will ultimately help empower his country and inspire others living there," said Asjad Nazir speaking to the local publication.
Tiger Shroff entered the top 10 for the first time and came in fourth. Pop superstar Zayn Malik came in fifth and TV star Harshad Chopda was ranked sixth. The rest of the top 10 for 2019 were actor Mohsin Khan (8), cricketer Virat Kohli (9), and South Indian superstar Prabhas (10).