PARIS: Football's biggest stars burst onto the Paris fashion runway Thursday with Neymar, Kylian Mbappe, and Edinson Cavani popping up on T-shirts and satin bomber jackets by Indian designer Manish Arora.
The flamboyant creator has linked up with their club, Paris Saint-Germain, to produce a line of women's clothes inspired by its stellar trio of strikers, including vertiginous stiletto football boots in a mix of hot pink, lime green, and gold aertex.
In the most colourful and joyous catwalk show of the week so far, Arora remade the team's crest with the footballers' faces surrounded by adoring hearts in Indian Zardozi metal embroidery.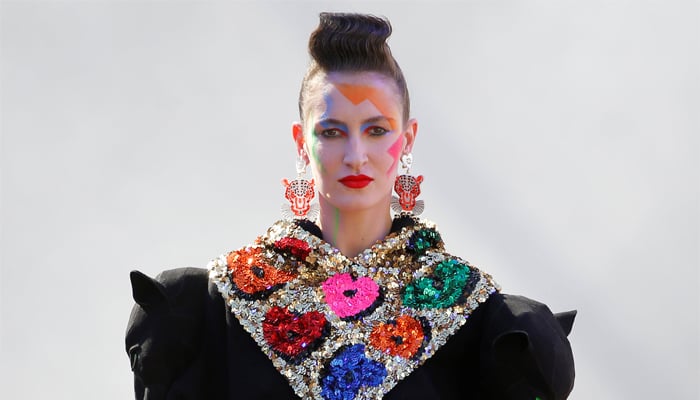 A kaleidoscopic portrait of PSG's dishy Brazilian defender Thiago Silva adorned another top, while Neymar's featured on the shiny scarlet tongue of Day-Glo rainbow trainers.
"Life can always be more colourful," he quipped as he also sent out football-shaped gold chain bags decorated with the players' faces and names, and jackets with staggering leopard-head shoulder pads.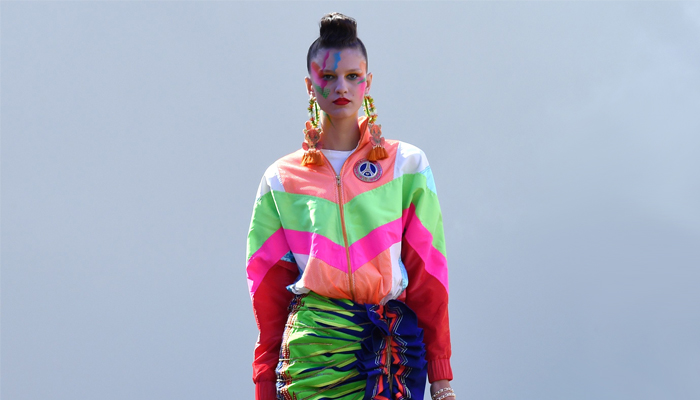 The traffic-stopping outfits came with leopard handbags "complete with laser eyes", the ultimate WAG (Wives and Girlfriends) swag.
"Girls just wanna have fun" — the show's title — also made it onto those football boot stilettos.
Then, there was the model in a heart-covered wedding cake gown, her face done up like a wacky Snapchat filter, not to mention the three-tiered cake bags.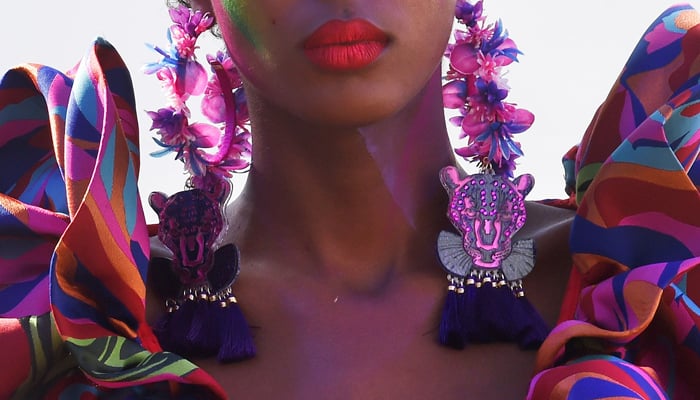 "The kitsch quota comes good enough to eat," Arora joked, and it doesn't take a huge leap of the imagination to see them making it onto WAG credit card bills.
The show went down a storm with critics, with the style bible Women's Wear Daily hailing Arora for "reaching out to a global audience" and nudging his clothes "upmarket a notch, trimming away some of the excesses without losing any of its punch".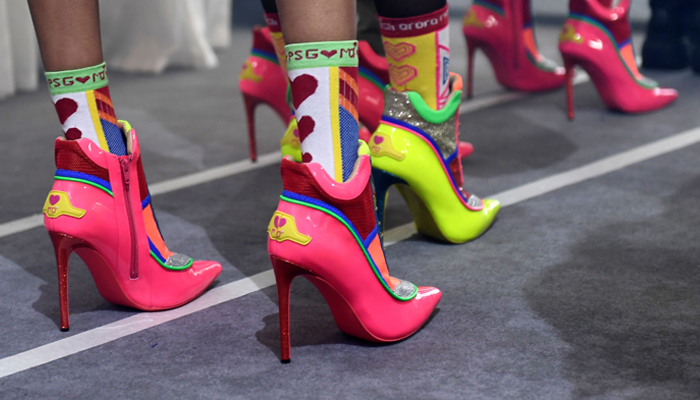 It is not the first time that PSG has inspired Paris designers. Last year, the smart young French brand Koche send out a line of re-imagined silky PSG tops.
The official link-up with Arora, however, is part of PSG's strategy to become a global entertainment industry brand, with a capsule collection drawn from the show due to go into the shops in China and India in February.
GAME OF LAWNS Summer is Here
On a cold February night while mindlessly scrolling through my Instagram feed, I came across a lawn advertisement. The next insta post showed socialites wearing sleeveless lawn suits at a launch event. Now I see these same women smiling into the camera almost every hour featured in different elitist magazines and posts. I could have sworn they were wearing jackets and carrying designer bags just yesterday at a polo match.
For those of you not familiar with lawn it's a fabric to be worn in summers. It's the finest form of cotton weave which has a soft almost luxurious feel to it. Its comfortable, airy and breathable to give women (never heard of men wearing it) much needed respite from the sweltering heat.
Some of the top brands which are magically sold out at Cinderalla time on their prebooking dates are Elan, Sana Safinaz, Faraz Manan and Sobia Nazir.
"Please take care of yourselves, don't put yourselves or others in harm's way, be happy and stay safe." Khadija Shah, designer of Elan addressed her customers on Instagram, preparing them for the battle ahead.
Lines are formed outside flagship stores the day of the pre-booking only to be broken as soon as doors open. Social media gets flooded with videos of violent women destroying anything and everything that comes in their way. Salesmen scarred both emotionally and physically.
"A furious customer smashed a salesman's head," said Tahir who works as a driver and was an eyewitness to the incident.
The disgruntled man had queued up for Elan 3A since 6am. When he finally reached the salesman, he was told they had run out of stock.
Now why do a certain class of people, mostly educated, behave like this is beyond human comprehension. Pushing and shoving are considered milder forms of aggression when it comes to buying their chosen design.
There is method to this madness. First the social media campaigns start. Then you see pictures and videos of unbelievably tall and beautiful women with fair skin and European features wearing long shirts, flared trousers and flowing silk dupattas (long scarves worn traditionally in Pakistan). Some are basking in the sun on a cruise in Italy with their fluttering dupattas following them everywhere. Others lying on a sofa in a French palace and some staring blankly while walking in a forest. The designs and campaigns of different designer brands each year have started looking eerily like each other.
Then the catalogues come out. Hype is created and countdown to online pre-booking starts. Women look through endless pictures while holding their breath and write the codes to their favorite designs for pre-booking. Its status symbol and the race to wear it first rather than the love for lawn that drives sales. There is frenzy around this time. Girls try to ask their friends which one they will buy while casually mentioning they will not buy any designer lawn this season as not to disclose the codes of the suits they are trying to get.
I vowed not to get into the designer lawn trap but unfortunately succumbed to buying just one suit. When I went to collect it, I was approached by a middle-aged woman who took me to the side and started whispering that she had the 'out of stock' lawn joras. She handed out her number on a piece of paper and disappeared as swiftly as she had appeared.
Out of curiosity and partly because the design my mother liked was also the first to run out, I called that number to ask about availability. To my horror, the woman quoted almost double the price for the same suit! Talk about creating a business opportunity out of women's desperation to wear their favorite design before their friends do.
Now I know, designer lawns are nowhere in the affordable range. Most are around Rs 7,000 for a three-piece suit which include unstitched fabric for a shirt and trouser, a dupatta and some random patches (with little to no information given where each patch belongs). But paying double of that seemed unreasonable and wrong.
If you thought the ordeal ends here, wait till you take this lawn suit for stitching. The otherwise friendly tailors during winter months start showing attitude during this season. The prized packet comes with a paper indicating contents in English (I wonder why not in Urdu) and a picture of a model wearing it. When you open it, random cloth pieces much like a jigsaw puzzle keep coming out. Surprisingly this baffles the customers, but the tailors exactly know what fits where. For their services, they charge exorbitantly. Appliques, patches, hem, trimmings, home delivery, stitching early are some of the add-ons included in the final stitching bill which is not meant for the light-hearted. Stitching costs can go up to Rs 3000 or more for a suit.
The Pakistani rupee hit an all-time low of around 146 against the dollar and further devaluation is expected. People are complaining about inflation and rising food prices but there is silence on the topic of exorbitant designer lawn prices. How can so many people afford something so expensive?
More and more textile mills are collaborating with designers to come up with their lawn collection each year. This year low-priced alternatives by coveted designer brands like Muzlin by Sana Safinaz and Zaha by Elan were seen in the market but not met with that much enthusiasm by the seasoned lawn buyers. The whole concept of designer lawn works on looking expensive and showing off otherwise the veterans of lawn like Al Karam, Gul Ahmed and Nishat Linen still have the softest and purest form of the fabric.
Lawn mania doesn't end here. Now that Eid is around the corner, all the brands are coming out with their formal collection. Did I mention Volume II and III will follow?
The saga never ends…   Maha Shah is a freelance writer, journalist and HR professional who has worked for Google and Bloomberg and has lived in Jordan, Singapore, Hong Kong, Qatar and now Pakistan
By Maha Shah
Don't Miss Out On These Eid Looks!
Eid Ul Fitr just ended the day before yesterday and it was a joyous affair. Family gatherings and good food are always a mood. We've rounded up all our favorite looks from the first day till the third day and can't wait to share them with all of you!
Twitter fans root for Lady Gaga to get together with Bradley Cooper after his break-up
Bradley Cooper and long-time girlfriend Irina Shayk have reportedly called it quits after four years of dating and it didn't take long for the Twitterverse to play matchmaker for the "Silver Linings Playbook" star.
Social media users, who have long speculated over the on-screen chemistry in "A Star is Born," between him and co-star Lady Gaga, took to Twitter to both urge the two to get together and joked about Gaga's likely response to learning about the split.
Fans began speculating that Cooper's relationship was in trouble after he and Gaga performed the song "Shallow" from the film at the Oscar's in February. The two entered holding hands and sat close to one another during the piano ballad.
One Twitter fan posted a clip from the performance when Cooper and Gaga intimately gaze into each other's eyes after singing the duet. "Breaking news: Bradley Cooper and his long time girlfriend Irina Shayk have broken up. Below is exclusive footage of the moment their relationship ended."
"Anyone get that People alert of Bradley Cooper & Irina splitting up? GAGAAAA WHERE YOU AT GIRL?!" another fan wrote. A third Bradley/Gaga shipper said "If Lady Gaga and Bradley Cooper don't get together by the end of this year i'm never listening to shallow ever again."
"A Star Is Born" received eight Academy Award nominations after its 2018 release. Gaga and her fiancé Christian Carino ended their two year relationship in February, People confirmed.